With school starting, I'm determined to stay organized and get into a good routine - something I've been looking forward to the last couple of months. Pajama days, not worrying about lunches, it's all been fun... but I think we're all ready to get back into the groove of school.
Sophia will start preschool, going five days a week from 8:30 to 11:30. Last year she went three mornings a week and was worn out, so I'm sure this will be a bit of an adjustment for her. Amelia will start going Monday, Wednesday, Friday from 8:30 to 11:30. She went two mornings a week last year. We LOVE our school!
So anyway, art work. One of the things we love about this school is that the kids do so much great art, music, being read to, playing on the playground (they are GREAT about making sure the kids get outside lots!) But the artwork they bring home can get a little overwhelming sometimes. So here's our new solution...
When the masterpiece comes home, it gets a showing on the fridge for a couple of days, then it goes into the boxes that we made today.
I got some clean, empty pizza boxes (the guy at Little Caesar's was puzzled, so I told him to charge me for the boxes, and he did - fifteen cents ha!)
and I wrapped them in brown postal paper (one roll from the Dollar Store was more than enough for two boxes). I attached the paper using spray adhesive.
Then I let the girls decorate their boxes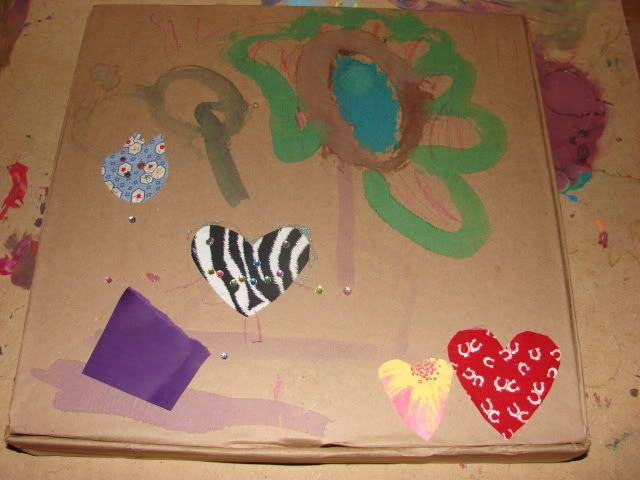 and labeled them
They stack nicely, so hopefully this will be a manageable way to store their school work from now on.
By the way, that first piece of art that is shown in the box above is Sophia's All About Me collage that she made for her first day of school. I helped her with cutting (only because I couldn't find the kids' scissors and she was having a hard time using the bigs ones) but other than that, she made it all by herself.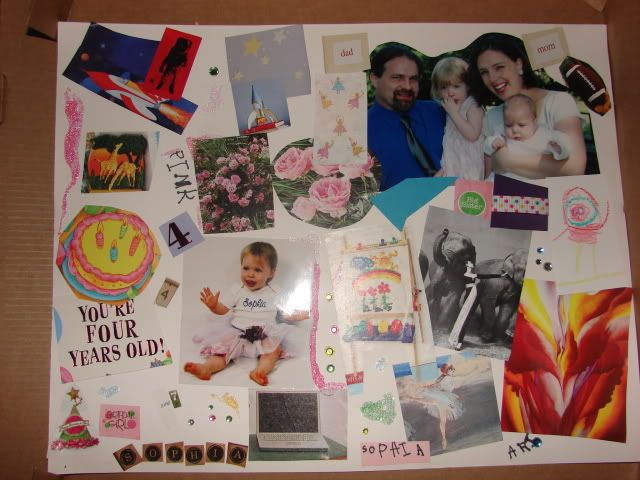 I also wanted to share what we had for dinner Sunday, because it was a very yummy, cheap, easy and healthy meal - what more could you want?
Roast Chicken
1 whole chicken
1 tsp kosher salt
Preheat oven to 450 degrees. Wash the chicken and dry very well. Place the chicken in a small roasting pan and sprinkle the top with the salt. Bake for 1-1.5 hours, depending on the size of the chicken. Don't baste. This makes the best crunchy salty chicken skin with moist, tender chicken inside.
Davis's Favorite Rice
4 cups chicken broth
2 cups long grain white rice
1 /2 Tablespoon butter
1 medium onion, chopped
1 10-oz bag sliced mushrooms, chopped
Bring the chicken broth to a boil, then add the rice. Cover and return to a boil. As soon as the rice begins to boil, turn the heat to low (you want it low enough so just a little steam escapes from the lid) and cook for 18 minutes without lifting the lid.
Meanwhile, melt the butter over medium heat, then add the chopped onion. Saute the onion until it is just translucent. Add the chopped mushrooms and turn the heat up to high. Saute on high until all the liquid is gone and the mushrooms are squeaky and starting to brown on their edges.
When the rice is done, fluff it with a fork and then stir the onion/mushroom mixture into the rice. Salt to taste, but because of the chicken broth, you won't need much salt.
Wilted Spinach
1/2 Tablespoon butter
1/2 onion, chopped
1 pound fresh spinach, washed
Melt the butter in a large saute pan over medium heat, then add the onion (I used a red onion tonight, because I had half of one I needed to use up). Saute the onion until translucent, then add spinach. Cover and cook, stirring occasionally, until the spinach is just wilted. Salt to taste.
Davis doesn't love spinach, but he'll eat it this way. Thankfully both of my kids love it. I could eat this spinach and chicken skin all night long.