Let's see if I can jumble together a completely random post from this week, since I just realized my blogging has gone by the wayside...
We had a GOOD dinner Monday night (Family Night!)
Gorditas
(from Cookie - I miss that magazine!)
1 can creamed corn
1/2 cup water
2/3 cup cornmeal
1 Tbsp butter
1/2 cup shredded Monterey Jack cheese
Preheat the oven to 400 degrees. Mix the corn, water and cornmeal in a saucepan over medium heat. Stir to combine and then continue stirring until the liquid is absorbed ~ 5 minutes. Remove from heat and stir in the butter and cheese. Grease 6 giant muffin pans and spread the cornmeal mixture on the bottom of the muffin pan and up the sides a little, then bake for about 25 minutes. Let cool a little then remove from pan.
Let everyone fill their little cups with whatever toppings they want - we had
(ignore my tablecloth... iron much? no I don't, thanks for asking)

black beans, chopped tomatoes, chopped lettuce, salsa, sour cream, and shredded rotisserie chicken (and a side of Spanish rice).
If this sweet pea will eat it, it has to be GOOD. She's going through an extra picky phase right now.
Henry shoveled it into his mouth with his cute little wooden spoon.
*************************

I don't know why I have so many pictures of Amelia right now. Sophia is going through an extra HYPER phase right now, she's never still enough for a picture! But Amelia, she's glued to my phone
and today she put on a leotard and asked me to make her into a rabbit.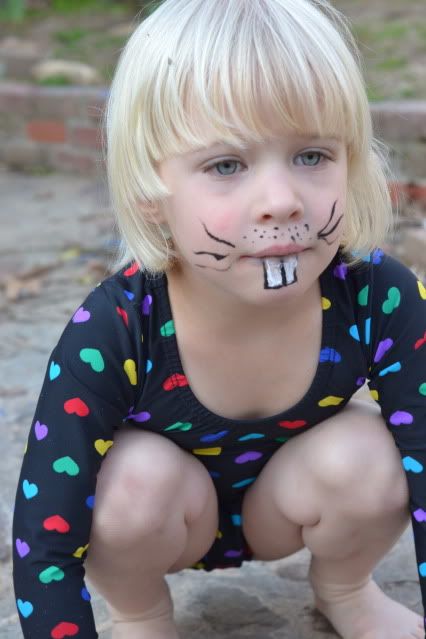 *************************

Davis is hanging out with the guys tonight. I got MAD at work today (it's not often I get MAD, much less at work) and I was just so, so tense when I got home. I decided to relax, watch a movie, eat a bunch of Airheads.
I rented The Next Three Days (Russel Crowe take me away!) but nooooo... I think my blood pressure is near fatal right now. My heart is racing. I want to run away and scream! I think I will need some sedatives when this movie is over. It's good, but it's NOT relaxing!
P.S.
The movie just ended... I sent Davis a text
Me: I'm MORE stressed out after this movie.
Davis: Haha.
Me: I'm going to see if there's anything good on Lifetime.
Davis: Hahahahahahahaha.
*************************

That's all. Happy Middle of the Week!