As I've mentioned a couple of times lately, I started to get nervous about this fall - having two kids in school, a toddler (a very active toddler!) at home, and a newborn (on top of all the normal work-life balance issues I deal with anyway). So I have been working hard to come up with simple ways to simplify and organize our lives. I thought I would share a couple of the small solutions I've come up with - having
things
organized helps my
mind
feel more in order!
1. The First Aid Kit
Anyone who knows my husband understands that a well-stocked first aid kit is vitally important in our house! I first started stock-piling wound-care products when we were dating, and now that I have birthed his children - some of whom take after him in the injury-prone department - I make sure we have everything we need for small emergencies at our house.
The problem was, whenever we urgently needed a butterfly bandage or tweezers, we would dig through a big unruly box of wrong-sized band aids, and never find what we needed. No matter how many times I tried to organize our first aid kit, or buy nifty divided boxes at the Container Store - it wasn't long before someone in search of a piece of gauze turned the whole thing into a mess again!
Well, check this out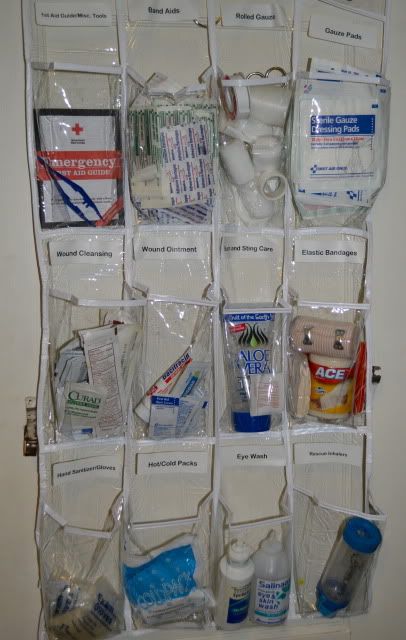 I ordered
this
clear shoe holder (small enough that it hangs higher than toddler hands can reach) for the inside of the bathroom closet door.
It makes me so happy every time I open the closet now, and it even motivated me to clean our and organize the rest of the bathroom closet. Now when an emergency strikes, no more frantic riffling through a bunch of junk to find what we need.
We also have a big emergency kit in the laundry room, which never gets touched (it's for BIG emergencies - you can read more about it
here
). I just bought
this
prepackaged kit, and then we have extra gallons of water and food, etc. in the same cabinet.
2. The Car
I remember before I had kids, I was very picky about keeping my car clean. I swore I would NOT become one of "those" moms with the french fries on the mini van floor. Ha ha ha! Well, I don't have a mini van, and french fry consumption in our car is very limited, but still, it's really hard to keep the car clean with three little kids!
One thing that drove me crazy, is that my SUV has a giant console between the driver's seat and passenger's seat - we always joke that it could fit an 8th passenger in there! The problem with it being so big, is that it was hard to keep track of all the stuff that accumulated in there. If we emptied it out, we always ended up needing a Kleenex and not having one in the car.
Well, check this out
These pouches are pretty small, so I can also grab one and stick it in the diaper bag, if for example we're headed to the doctor's office and need some snacks or activities to keep everyone happy while we wait.
The only other thing in the console now, beside these bags, is the remote for the DVD and
this
small notebook/pen.
Our glove compartment is big too, so I separated paperwork into two plastic envelopes that are easy to grab if needed. The Emergency Information sheet contains all of our names with our pictures and dates of birth, our insurance information, medical information (drug allergies, etc.), and contact information for our families.
Insurance and Registration is so Davis can easily get to it when he gets pulled over. Ha ha! I just totally jinxed myself by thinking about how many years it's been since I've been pulled over...