Before I had kids, I knew SO much about parenting. I pretty much had it all figured out, after years of babysitting and dreaming of being a mommy. I knew just how I'd do everything.
Then I had a baby and realized I didn't know anything. After a while, I thought maybe I got the hang of it... but then I had another, completely different, baby and realized that I still didn't know what I was doing.
But THEN I had two more babies, and I am starting to feel a little smug again. Like maybe, just maybe, I DO know a thing or two. Maybe I am qualified to give advice and have opinions. At least about some things. Namely anything involving children younger than seven years old.
So, I am going to give you my opinion. It's totally opiniony and judgy. Strangely (not really - it makes sense!!) this is the exact same advice you'll hear from OTHER smart moms who've been around the block a few times. Like
her
and
her
and many others I've run across. But I'm going to say it again, in case there's any doubt.
There is a way to potty train, and
it works
. I've done it with three kids, who showed
very
different levels of interest.
It's simple:
1. don't put it off too long, and
2. just do it.
All the way.
Potty training is a pain!! It really is, but if you invest in a week or two of hard core commitment, it will be over with, which is soooo much better than months (or YEARS for some people I know!) of dragging it out. There is no reason to put off potty training past 2.5 years. Closer to age 2 is better, actually, I think. I don't think there were three year olds in diapers running around when we were kids, definitely not when our parents were toddlers! Kids are totally capable of potty training at age 2 to 2.5 (barring some developmental delays, of course).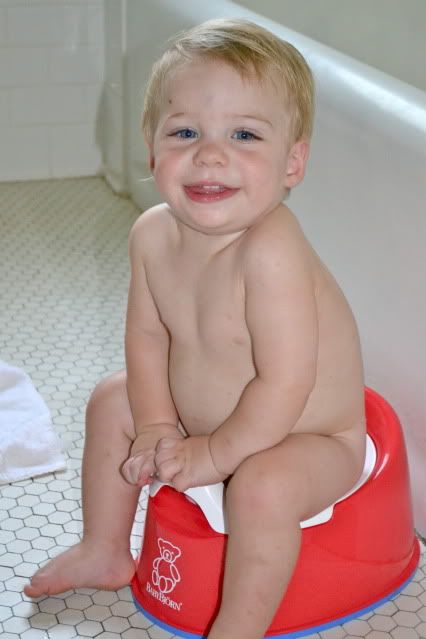 I start sticking them on the toilet before evening bath when they are around 18 months old. Just to practice. Then...
Pick a week, preferably one where there's not too much going on (or in my case, the last full week of school when there are a TON of things going on, whatever). Buy some jelly beans. Buy some cute underwear. Announce to everyone, especially yourself, that it's time for
no more diapers
. Then just sit your toddler on the potty every 30 minutes. Get them to drink a bunch. Turn on the faucet while they're sitting there - my grandmother did it, and it works. When they go pee in the potty throw them a party - clapping, congratulating, giving them a jelly bean, etc. If they pee on the floor, just say "ooops, pee in the potty!" and get them to help mop it up. Don't make a big deal over it. I would put your toddler in underwear and elastic waist pants/shorts, or if it's a girl a dress. It's really easy to potty train if they are totally naked, but I've found sometimes if they're used to being naked, they will then pee when they have underwear on. That happened with Amelia for a while. Anyway, the main thing is - NO MORE DIAPERS. Nap time and night time might take longer, and you can put diapers on them then, but never ever
ever
during the day.
If you are leaving the house, pack a bunch of changes of clothes, put a changing pad under them in the car seat, whatever, just
don't put a diaper on them
. Make them go before you leave the house, then sit them on the potty every 30 mintues wherever you are. Yeah, even gross public restrooms.
These
things help. When you're driving, just occassionally say, "Don't pee in your pants. We'll be at the store soon and you can go potty." Do NOT come up with excuses and stick them in a diaper. Long road trip? Hospitalization? Church? New baby? We've done it all, you can do it too. I think it's confusing for toddlers to go in and out of diapers. Either it's okay to pee in your pants, or it's not. Using diapers because we are being lazy or it's more convenient, and then expecting kids to figure out that they have to use the potty when we feel like it, NO.
Sophia pretty much potty trained herself by 18 months, but Amelia took longer - once we FINALLY committed to it (she was 2.5) and took away all diapers (pull ups are diapers!!!!) it took about a week. Henry did it in three days (at 2 years and 3 months). He hasn't had any accidents. Again, stick them on the potty EVERY 30 MINUTES. No toddler is going to think about stopping what they're doing to go to the bathroom when they're busy, and every 2 year old is busy all the time, right? So just take that responsibility away from them and be their peeing alarm clock. Stick them on the potty, turn on the faucet, give them a jelly bean and have a party. It's been 5 days now and Henry has started going to the bathroom on his own SOME of the time (I hear him in there clapping for himself and yelling "I PEED!!") but I still have to grab him and stick him on the potty other times. In a couple of weeks we'll be able to let up on the constant sticking him on the potty.
P.S.
One trick I've learned with boys - stick them on the big toilet facing the back! Keeps all the pee going down into the toilet instead of up over the seat! :)